Some Common Knowledge of Cone Crusher
Cone crusher is used for crushing of ores and rocks, the advantages are: reliable structure, high efficiency, easy to adjust and economical. The safety spring system is the overload protection device, which makes foreign materials go through the machine without bring any hurt to it. The sealing models are oil and water, which segregate the stone powder and lubricating system. The crushing chamber is decided by the purpose of ore, the standard model is suitable for medium crushing, the medium model is suitable for fine crushing and the short head model is suitable for fine crushing.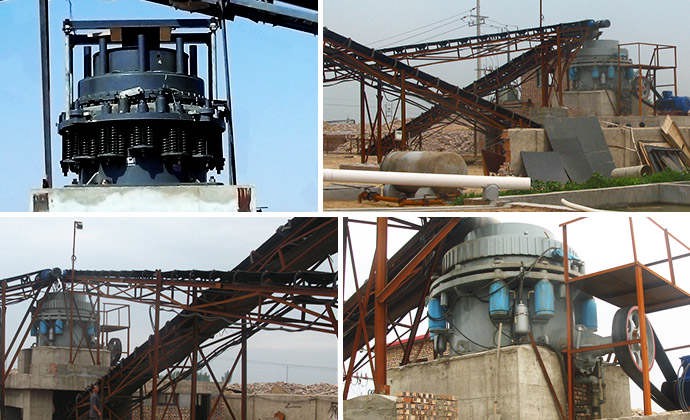 The Significant Advantages of Cone Crusher
1. higher performance characteristics, lower cost.
The combination of the reasonable speed, better crushing chamber can guarantee the stable operation, the higher capacity, lower cost. Taking the laminated crushing principle can make the cubic finished products be increased.
2. credible operation and safety guaranteed.
Large-diameter spindle and heavy-duty main frame can guarantee the long lifespan and credibility of this machine. The independent lubrication system can protect the lubrication of the bearings. The overload protection device and the automatic controlling system can realize the safety.
3. Easy to be operated and maintained.
All of the components of this machine can be disassembled. The hydraulic cleaning system can clean the crushing chamber as quickly as possible, which can greatly decrease the stopping time.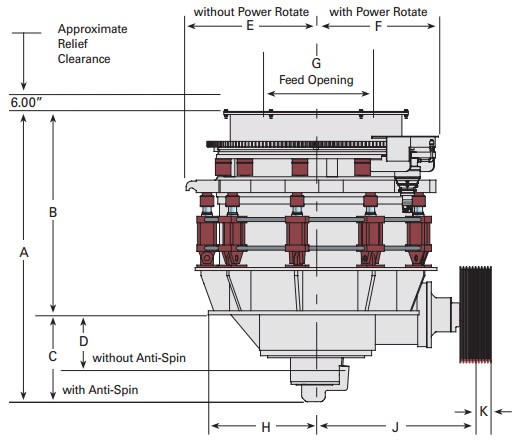 Technical Parameter
Specification
Model
Diameter
of large
end of
crushing
cone
(mm)
Max.feeding
size(mm)
Width of
discharge
opening
(mm)
Processing
capacity
(t/h)
Motor
power
(kw)
Total
weight
(t)
Dimensions
(L×W×H)
(mm)
Φ600
PYB600
600
65
12-25
40
8P 30
5
2234×1370×1675
PYD600
35
3-13
12-23
5.5
2234×1370×1675
Φ900
PYB900
900
115
15-50
50-90
8P 55
11.2
2692×1640×2350
PYZ900
60
5-20
20-65
11.2
2692×1640×2350
PYD900
50
3-13
15-50
11.3
2692×1640×2350
Φ1200
PYB1200
1200
145
20-50
110-168
8P 110
24.7
2790×1878×2844
PYZ1200
100
8-25
42-135
25
2790×1878×2844
PYD1200
50
3-15
18-105
25.3
2790×1878×2844
Φ1750
PYB1750
1750
215
25-50
180-360
8P 160
50.3
3910×2894×3809
PYZ1750
185
10-30
80-210
50.3
3910×2894×3809
PYD1750
85
5-13
60-180
50.2
3910×2894×3809
Φ2200
PYB2200
2200
300
30-60
420-700
8P 280-260
80
4622×3302×4470
PYZ2200
230
10-30
130-410
80
4622×3302×4470
PYD2200
100
5-15
80-200
81.4
4622×3302×4470