The Handling Materials and Application of Grinding Mill:
Grinding mill is mainly used to grind non-inflammable and non-explosive materials with Moh' s hardness below 7 and moisture content below 6% such as barite, calcite, potash feldspar, talcum, marble, limestone, ceramic, glass, etc., which can be used in mining, chemical industry, construction materials, metallurgy and so on.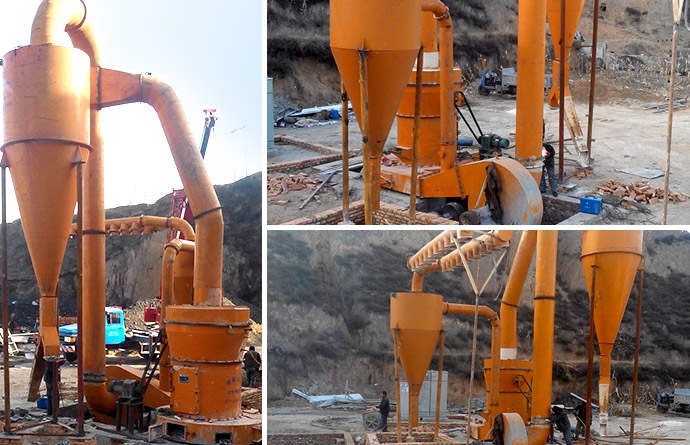 The Performance Characteristics of Grinding Mill:
1. Mineral that Moh' s hardness is smaller 9.3 stages can process, crush.
2. Completed product that particle sphere that diameter maximum is very extensive, particle is 0.613mm (30 mesh), the normal particle is 0.033mm and the smallest particle is 0.013mm. (1000mesh)
3. The effect of the elimination dust attains the national standard.
4. The accommodation of the analyzer is very convenient.
Technical Parameter
| | | |
| --- | --- | --- |
| Model | 4525 | 4119 |
| Feeding Size(mm) | ≤30 | ≤25 |
| Output Size(mm) | 0.044-0.173 | 0.044-0.173 |
| Shift Output of Different Material Fineness(t) | 16-176 | 8-78 |
| Rotation Speed of Central Shaft(r/min) | 82 | 105 |
| Ring Diameter(mm) | 1770 | 1400 |
| Roller Diameter(mm) | 450 | 410 |
| Roller Height(mm) | 250 | 190 |
| Main Motor | Y315M-4-132 | Y280S-4-75 |
| Fan Motor | Y315M-4-132 | Y280S-4-75 |
| Analyzer Motor | YCT250-4A-18.5 | YCT200-4B-7.5 |