The Introduction to Drum Dryer:
The drum dryer is mainly used in some sectors, such as ore separation, building material, metallurgy, chemical engineering, etc. The drum dryer mainly consists of the drum body, supporting wheels, the feed-in and feed-out devices, transmission device, gear cover, and so on. It is widely adopted due to its advantages, including simple and reliable operation, nice dust collection and sealing, simple maintenance.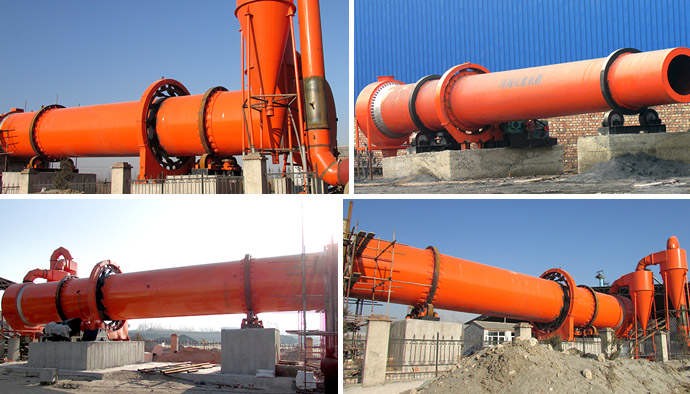 The Superiority of the Drum Dryer in Property:
1. High drying strength, high efficiency. 2. Advanced inner structure, high drying capacity. 3. High automation level. 4. Big processing capacity, low cost.
The Structure of the Drum Dryer:
The drum dryer mainly consists of the rack, heat source, feeder, rotary drum, material crushing device, discharging machine, induced draft fan, etc.
1. Drum body:
Inside the drum body, the major component of the drum dryer, the wet material, moving forward, can directly or indirectly get the heat from the heat carrier to be dried.
2. Lifting Plate:
The lifting plate, another major component of the drum dryer, is used to change the motion state of the material inside the machine to increase the heat transfer capacity in the rotary dryer. Then, the drying process will be faster and the heat efficiency can be increased. 3. Dust Collector:
Each drum dryer must be equipped with a dust collector to process the dust generating from the drum dryer in the material drying process, which can decrease the dust pollution in the operation.
Technical Parameter
Spec./m
(Dia.×Length)

Shell Cubage
(m³)

Capacity
(t/h)

Installation
Obliquity
(%)

Highest Inlet
Air Temperature
(℃)

Main Motor
(kw)

Weight
(t)

Φ1.2×8.0

9.0

1.9~2.4

3~5

700~800

7.5

9

Φ1.2×10

11.3

2.4~3.0

3~5

700~800

7.5

11

Φ1.5×12

21.2

4.5~5.7

3~5

700~800

15

18.5

Φ1.5×14

24.7

5.3~6.6

3~5

700~800

15

19.7

Φ1.5×15

26.5

5.7~7.1

3~5

700~800

15

20.5

Φ1.8×12

30.5

6.5~8.1

3~5

700~800

18.5

21.5

Φ1.8×14

35.6

7.6~9.5

3~5

700~800

18.5

23

Φ2.2×12

45.6

9.7~12.2

3~5

700~800

22

33.5

Φ2.2×14

53.2

11.4~14.2

3~5

700~800

22

36

Φ2.2×16

60.8

13.0~16.2

3~5

700~800

22

38

Φ2.4×14

63.3

13.5~16.9

3~5


700~800

37

45

Φ2.4×18

81.4

17.4~21.7

3~5

700~800

37

49

Φ2.4×20

90.4

19.3~24.1

3~5

700~800

45

54

Φ2.4×22

99.5

21.2~26.5

3~5

700~800

45

58

Φ2.6×24

127.4

27.2~34.0

3~5

700~800

55

73

Φ3.0×20

141.3

30.1~37.7

3~5

700~800

75

85

Φ3.0×25

176.6

37.7~47.1

3~5

700~800

75

95

Φ3.2×25

201

42.9~53.6

3~5

700~800

90

110

Φ3.6×28

285

60.8~76.0

3~5

700~800

160

135
Technical parameters of indirect heat dryer:
Shell
diameter
×shell
Length
Items
Inside
diameter
of outer
shell
(mm)
Inside
diameter
of inner
shell
(mm)
Shell
Length
(m)
Shell
cubage
(m³)
Shell
obliquity
Lifting
blade
form
Highest
inlet air
temperature
(℃)
Dimensions
(m)
Φ1.5×15m
1500
500
15
20.27
3-5%
Lifting form
850
16.2×2.7×2.7
Φ1.5×17m
17
22.97
18.2×2.7×2.7
Φ1.5×19m
19
25.68
20.0×2.9×2.9
Φ1.8×21m
1800
650
21
35.91
3-5%
Lifting form
850
22.5×2.7×2.7
Φ1.8×23m
23
39.33
24.5×2.9×2.9
Φ1.8×25m
25
42.75
26.5×2.9×2.9
Φ2.2×21m
2200
800
21
58.10
3-5%
Lifting form
850
----
Φ2.2×23m
23
63.61
Φ2.2×25m
25
69.15