Some Details to Notice While Installing Jaw Crusher
Jaw crusher is the main equipment for beneficiation. Its vibration is large at work, so it must be installed according to scientific and rational ways. Here, Hongxing collates some details about the installation of the jaw crusher for your reference.
1. Before installing, users should check whether the basic manufacturing of jaw crusher is correct, and whether it accord with drawing and technical conditions of manufacturer. After adjusting all the centerline curvature, check if the position of basic bolt hole is correct or not, and install basic bolt. At the same time, check whether the installing position of basic bolt meets the drawing by using plumb line or model.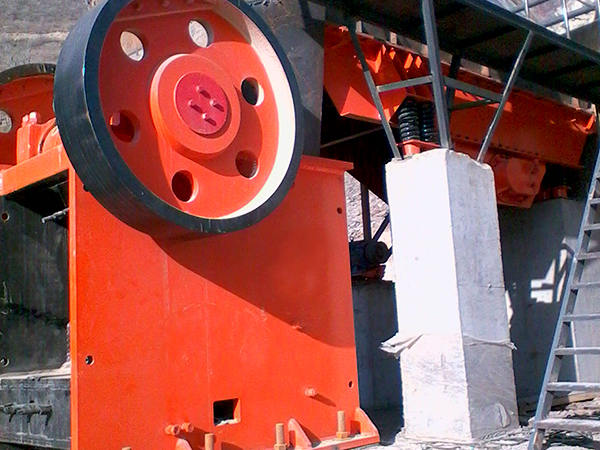 2. Jaw crusher should be fixed on the concrete floor. The ground should leave a drainage pit, and the inclination is not less than 50°. The form of foundation can be determined according to feeders and transport equipment.
3. The cooperation and management of jaw crusher and other kinds of equipment must be conducive to production and assembly line operations, to ensure the work surface without congestion.
4. Before adjusting discharging port, the tightening spring should be firstly released. After that, to adjust the tension of the spring appropriately is necessary. The degree of tension should be such that the noise between the elbow pads can be eliminated and the elbow plate does not fall off during working.
5. When installing the rack of jaw crusher, it is necessary to ensure the accuracy and stability of the equipment installation, and maintain the verticality and horizontality of the rack. If necessary, the centerline of base can be checked vertically and horizontally by using level measuring instrument and suspension hammer on the ring processing surface of equipment base.
6. Before operating, users should use manpower to move the pulley first to confirm movement is not blocked, and then the machine without materials can be tested. Within 2 hours, the phenomenon, such as impact, noise, leak at the seal, pulley oscillation, and looseness between shafts, cannot happen. The temperature of bearing cannot exceed 35℃. The machine must be stopped to check, if the above faults be found.
7. It needs 10 hours to test run. The equipment can be allowed to process ores, if there is no any fault is found, and the temperature rising doesn't exceed 70℃ in the case of using secondary hard ores.
The structure of jaw crusher is not complex, but it is not an easy thing to correctly install it. After receiving our equipment, users must, under the guidance of the manufacturer's technician, combine the installation instructions of the jaw crusher and pay more attention to the details to ensure that it is perfectly safe.