Some Common Knowledge of Ball Mill
Ball mill is the key milling equipment after materials have been crushed. It is widely used in cement, silicate, new construction material, refractory material, chemical fertilizer, ferrous metal and non-ferrous metal as well as ceramics. It is widely applied to dry or wet grinding for ores and grindable materials.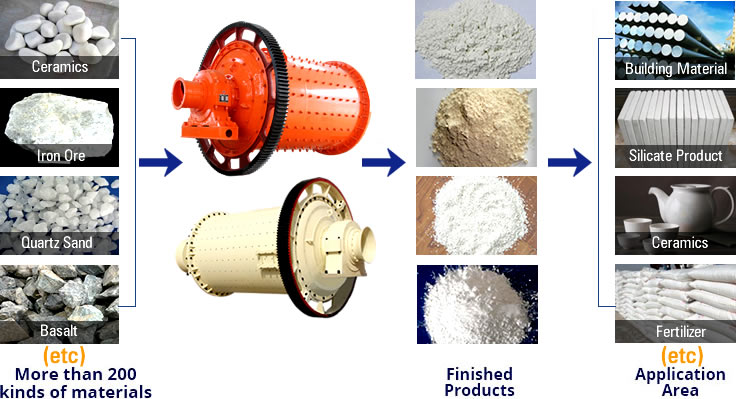 The Significant Advantages of Ball Mill
1. energy saving and less power consumption.
The matching of the drive and the grinding media can greatly lower the power consumption.
2. the flexible design of the discharging port.
The customers can decide whether the iron removing device is required or not according to their demand.
3. the bigger feeding size.
The reasonable design on the feeding port can increase the feeding output.
4. higher grinding efficiency and the better-quality plate.
5. taking the closed system to decrease the dust.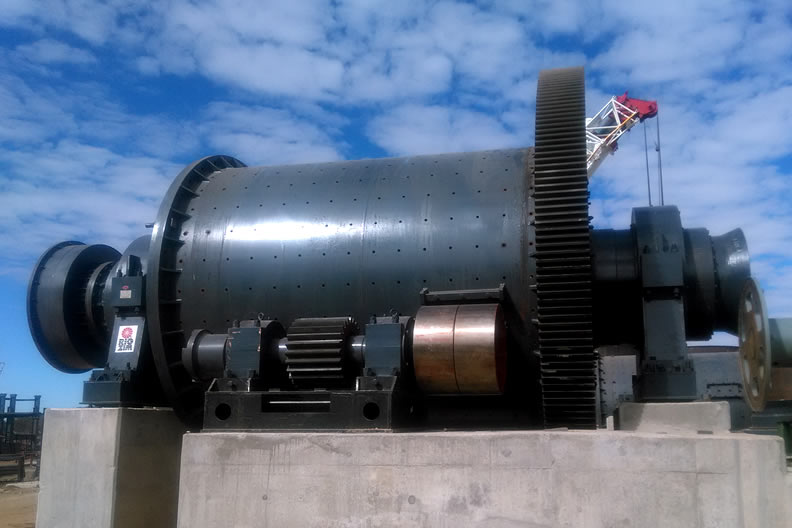 The Brief Introduction to Ball Mill
Ball mill is formed by feeding part, discharging part, rotation part and driving part (gear box, small transmission gearwheel, motor and electric control). The central hollow shaft is cast steel, the inner liner can be changed, the rotation big gearwheel is made by cast hobbling processing, and there are wearable liners with favorable anti-wear ability. Reliable and stable are the main advantage of this equipment.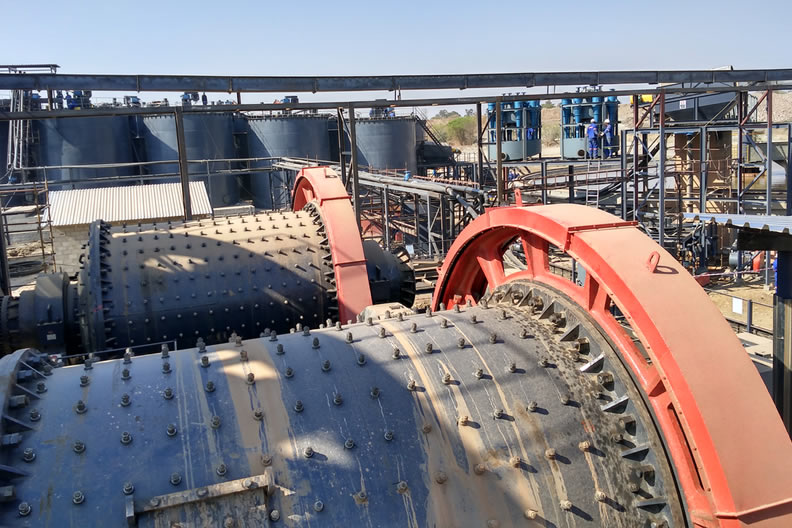 Note: according to the discharging method and material type, there are dry type and wet tpe ball mill can be chosen.
Technical Parameter
Model
Shell rotation speed
(r/min)
Ball load
(t)
Feeding size
(mm)
Discharging size
(mm)
Capacity
(t/h)
Motor power
(kw)
Total weight
(t)
Ф900×1800
36-38
1.5
≤20
0.075-0.89
0.65-2
18.5
5.85
Ф900×3000
36
2.7
≤20
0.075-0.89
1.1-3.5
22
6.98
Ф1200×2400
36
3
≤25
0.075-0.6
1.5-4.8
30
13.6
Ф1200×3000
36
3.5
≤25
0.074-0.4
1.6-5
37
14.3
Ф1200×4500
32.4
5
≤25
0.074-0.4
1.6-5.8
55
15.6
Ф1500×3000
29.7
7.5
≤25
0.074-0.4
2-5
75
19.5
Ф1500×4500
27
11
≤25
0.074-0.4
3-6
110
22
Ф1500×5700
28
12
≤25
0.074-0.4
3.5-6
130
25.8
Ф1830×3000
25.4
11
≤25
0.074-0.4
4-10
130
34.5
Ф1830×4500
25.4
15
≤25
0.074-0.4
4.5-12
155
38
Ф1830×6400
24.1
21
≤25
0.074-0.4
6.5-15
210
43
Ф1830×7000
24.1
23
≤25
0.074-0.4
7.5-17
245
43.8
Ф2100×3000
23.7
15
≤25
0.074-0.4
6.5-36
155
45
Ф2100×4500
23.7
24
≤25
0.074-0.4
8-43
245
56
Ф2100×7000
23.7
26
≤25
0.074-0.4
12-48
280
59.5
Ф2200×4500
21.5
27
≤25
0.074-0.4
9-45
280
54.5
Ф2200×6500
21.7
35
≤25
0.074-0.4
14-26
380
61
Ф2200×7000
21.7
35
≤25
0.074-0.4
15-28
380
62.5
Ф2200×7500
21.7
35
≤25
0.074-0.4
15-30
380
64.8
Ф2400×3000
21
23
≤25
0.074-0.4
7-50
245
58
Ф2400×4500
21
30
≤25
0.074-0.4
8.5-60
320
72
Ф2700×4000
20.7
40
≤25
0.074-0.4
22-80
380
95
Ф2700×4500
20.7
48
≤25
0.074-0.4
26-90
480
102
Ф3200×4500
18
65
≤25
0.074-0.4
As per process conditions
630
149
Ф3600×4500
17
90
≤25
0.074-0.4
As per process conditions
850
169
Ф3600×6000
17
110
≤25
0.074-0.4
As per process conditions
1250
198
Ф3600×8500
18
131
≤25
0.074-0.4
45.8-256
1800
260
Ф4000×5000
16.9
121
≤25
0.074-0.4
45-208
1500
230
Ф4000×6000
16.9
146
≤25
0.074-0.4
65-248
1600
242
Ф4000×6700
16.9
149
≤25
0.074-0.4
75-252
1800
249
Ф4500×6400
15.6
172
≤25
0.074-0.4
84-306
2000
280
Ф5030×6400
14.4
216
≤25
0.074-0.4
98-386
2500
320
Ф5030×8300
14.4
266
≤25
0.074-0.4
118-500
3300
403
Ф5500×8500
13.8
338
≤25
0.074-0.4
148-615
4500
525