Some Common Knowledge of Flotation Machine
Flotation machine is used for extracting of metals like gold, argent, iron, lead, zinc, molybdenum, nickel and alumimum. It is also suitable for extracting of ferrrous metal and non-metals.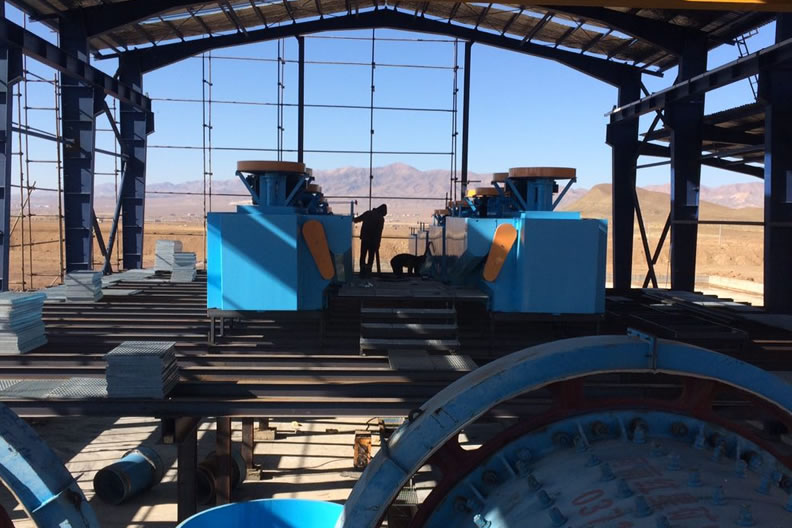 The Brief Introduction to Flotation Machine
The impellers are driven through V-belt transmission, which brings centrifugal effect to form the negative pressure. On the one hand, the flotation machine inhales sufficient air to mix with ore slurry. On the other hand, it stirs ore slurry and mix with medication to form the mineralized forth. To adjust the height of the flashboard to control the liquid level and make the useful froth scraped by loam board.

Some NOTES When Using the Flotation Machine
Usage: to check the bolts before starting the machine and to use hand instead of impellers to prevent the sediment from adding the burden of electromotor. To adjust the height of strobe carefully to keep the stabilization of liquid level and scrape the mineralized froth to the launder. The impellers and stators should have a distance and should be changed when they are worn. The bearing in the pump should be maintained every three months.
Easy wear part: impellers and stators.
Technical Parameter
Category
Specification
Model
Effective
cubage
(m³)
Processing
capacity
(m³/min)
Main shaft loam board
Dimensions
(L×W×H)
(m)
Single
trough
Weight
(t)
Power(kw)
Rotate Speed(r/min)
Rotate Speed(r/min)
Power(kw)
XJK type
flotation
machine
XJK-0.35
0.35
0.18-0.4
1.5
483
25
1.1
0.7×0.7×0.7
0.5
XJK-0.62
0.62
0.3-0.9
3.0
400
25
1.1
0.90×0.82×0.85
1.0
XJK-1.1
1.1
0.6-1.6
5.5
330
25
1.1
1.1×1.1×1
1.4
XJK-2.8
2.8
1.5-3.5
11
280
25
1.1
1.75×1.6×1.1
2.5
XJK-5.8
5.8
5-7
22
240
25
1.5
2.2×2.2×1.2
3.6
SF type
flotation
machine
SF-0.37
0.37
0.2-0.4
1.5
386
25
1.1
0.7×0.7×0.75
0.5
SF-0.7
0.7
0.3-0.9
3
400
25
1.1
0.9×0.82×0.95
1.0
SF-1.2
1.2
0.6-1.6
5.5
330
25
1.1
1.1×1.1×1.1
1.9
SF-2.8
2.8
1.5-3.5
11
268
25
1.1
1.75×1.6×1.15
2.6
SF-4
4
2-4
15
220
25
1.5
1.85×2.05×1.2
2.9
SF-8
8
4-8
30
191
25
1.5
2.2×2.9×1.4
4.2
SF-10
10
5-10
30
191
25
1.5
2.2×2.9×1.7
4.5
SF-20
20
5-20
30×2
191
25
1.5
2.85×3.8×2
9.9
JJF type
flotation
machine
JJF-2
2
1-3
7.5
443
25
1.5
1.4×1.4×1.1
1.7
JJF-4
4
2-4
11
305
25
1.5
1.6×2.15×1.25
2.4
JJF-8
8
4-8
22
233
25
1.5
2.2×2.9×1.4
4.5
JJF-10
10
5-10
22
233
25
1.5
2.2×2.9×1.7
4.9
JJF-16
16
5-16
30
180
25
1.5
2.85×3.8×1.7
8.0
JJF-20
20
5-20
37
180
25
1.5
2.9×3.8×2000
10.5